Building
Leaders
From
Within

Our lives have become busier, more complex and competitive than ever. Our kids now require extra tutoring and late nights of training to succeed - leaving parents to somehow become full-time chauffeurs, mathletes and short order cooks among many other things.
Do you ever stop and think, what's the bigger picture here? Is this crazy pace of life really serving my children or us holistically? What happened to learning actual life skills they'll need one day or stopping to take a look at the world through more conscious eyes? Are we really setting them up for TRUE success and the desire to foster citizenship at an early age? Where's the focus on EQ in addition to IQ?
welcome to the
Kidconscious Project
We believe conscientious kids will one day rule the world through empathy and mastery, EQ and IQ. We meet each month to learn the stuff in-between school and practice that should be a bigger headline in our daily routines. At KCP, we value hands-on engagement with our communities and larger world through fresh perspectives, open hearts and optimism. Kids will build on core skills, developing citizenship from the inside out and effectively helping others and their communities while creating a better sense of how they can help in the world.
our 3 focus areas
Self | Local | World
Every three months we choose a topic to develop a true growth mindset.
Each month is then dedicated to one of these three focuses within that topic.
SELF

Awareness &

Real Life Skills
We dig deep
learning subjects not taught in school which effect their lives and personal choices, including practical skills like body safety, digital citizenship, and how to save & spend money and core skills like confidence, empathy, optimism and growth mindset.
Local
outreach & Community
Involvement
We give back
to our communities by identifying organizations that draw awareness to important community issues, helping the undeserved, and making a difference in our own backyard.
World
Perspective &
Multicultural
Compassion
We open up
the dialogue to global current events, challenge the easy response, respect the bigger picture and foster truly diverse empathy. We strive to normalize the uncomfortable, make difficult conversations easier and see the world through empathetic, conscientious eyes and open hearts.
"Our son's participation with the Kidconscious Project has broadened his perspective and understanding of the social issues in the world today. The program and activities are not only fun, they are designed to inspire young people to think critically about the world they live in and act with empathy and kindness. Our son is gaining more than just leadership skills—he is developing strong social connections and with his friends, cultivating a community of young leaders that will build a more positive and inclusive world."
"My husband and I feel so lucky that our daughters have opportunities through the Kidconscious Project to learn about and engage with their community in a meaningful and age-appropriate way. The different events and workshops that we have attended have been thoughtfully organized and have helped to act as a catalyst for many family conversations about the world that we live in."
how to
GET INVOLVED
It's easy (because we need more of that!)
Slots are limited to available capacity.
01
Browse
upcoming projects
02
Sign Up
for whichever projects you like
03
Join Us
if you can't attend, you can donate to be involved
healthy minds
Mental well-being
What is mental well-being? In this summer series, we will explore the benefits of meditation, breathing, yoga and so much more. We'll dive into the hard stuff like how to recognize anxiety, depression, and real-life struggles in our kids. Then we'll learn about how to foster healthy relationships using these tools in their own spheres of influence!
This FREE Mental Health 101 talk on May 15th at 12pm is for parents with kids younger than middle school to get answers about this incredibly pertinent topic.
Leadership and friendships
EQ, Friendship and Leadership Skills for Boys and Girls (2nd-4th grade)
Three classes offered:
June 20, 3:30-5pm
July 18, 3:30-5pm
August 15, 3:30-5pm
Kids will learn how to spark a centered consciousness at home through a variety of exercises. Parents join at the end to extend the learnings.
June 22, 3:30-5pm
arts and minds summer camp
This summer we're partnering with Arts and Minds to offer 4 integrated camp experiences, including movement, creative arts, mindfulness, and giving back. These camps are for kids ages 6-12 years.
Wednesdays from 1:30-3:30pm
July 17, 24 31
August 7
Sports Mental Toughness and Positive Self-Talk
As part of our summer Mental Well-being series, we are excited to bring three sessions focused specifically on sports mentality to kids ages 8 and up.

Tuesdays from 3-4pm
June 25
July 2 and 9
healthy bodies
Childhood Nutrition
Join us as we explore nutrition, whole foods and how to grow it in our own backyards. This spring we'll learn the five principals for raising balanced eaters. We'll get busy in the kitchen using recipes for easy meals at home, and even visit The GrowHaus to learn about our right (not privilege) to healthy foods!
Snack Attacks! A fun, realistic nutrition class for kids with family nutritionist Suzanne Farrell on Friday, April 12th from 4:30-5:30pm. Cost is $20
Kids will learn great ways to incorporate more food groups into their snacking and will make a healthy parfait at the end.
Two cooking classes using healthy ingredients, offered at the Children's Museum of Denver at Marsico Campus. April 6th from 10-11am (breakfast recipes) and April 7th from 2-3pm (dinner recipes).
Cost is $25/kid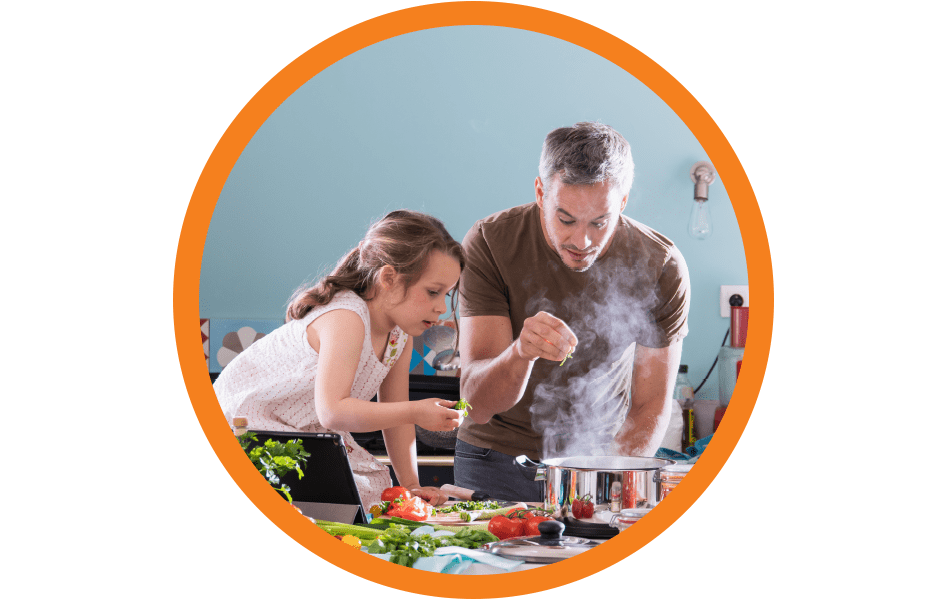 Visit The GrowHaus to learn about their sustainable greenhouse and supplying healthy food to Denver residents in need. May 6th from 4-5:00pm.
What is a refugee? Where are they fleeing from? Why? How did they come to Denver? What's it like to be a refugee? Our afternoon at Project Worthmore was incredibly enlightening. We heard from Walid, who fled Iraq with his family, and he taught us about what it's like to be a refugee, and particularly in Denver. Together, we assembled 20 home essentials care packages for families they serve.
During January, thirty 2nd, 3rd and 4th graders and their parents came together to learn what it means to be a digital citizen. Specific takeaways included:
Rules for Visiting Places Safely Online:
1. Always ask your parent (or teacher) first.
2. Only talk to people you know.
3. Stick to places that are just right for you.
4. Personal Information- discussed why not to give out name, birthday, address
5. Creating Usernames- students learned they should not be identifying information and did an exercise to create a safe one
Thirty kids and their parents participated in a two hour body safety awareness class where they learned how to protect themselves from stranger attacks, abuse and bullying by people they know.
Throughout October, families shopped for non-perishables to stuff "Bags of Hope" for the homeless. In early November, over 50 kids and their parents heard from Family Promise about what it means to experience homelessness, who is homeless in Denver, and how kids and families can help. Together we assembled over 500 bags of hope which families took to distribute with their kids from their cars while driving around in Denver.
During November and December, risk specialist Einar Jensen spoke with 40 kids and their parents in a home, taking kids through specific safety events and what they would need to do to protect themselves in case of an emergency. Kids learned all about fire safety, making a family escape plan, when and who to contact in various emergency situations, and a whole host of other safety scenarios. These kids and their families are now armed and ready with tools to help save themselves and their family in case of a home emergency.
We committed to purchasing wish list gifts for 30 kids served by the Denver Rescue Mission in their effort to help save Christmas for these needing families.
Babies through teenagers received both special and utility items to help make Christmas just a little more special for them and their families.